VULCAN
Super Burglar Digital Firesafe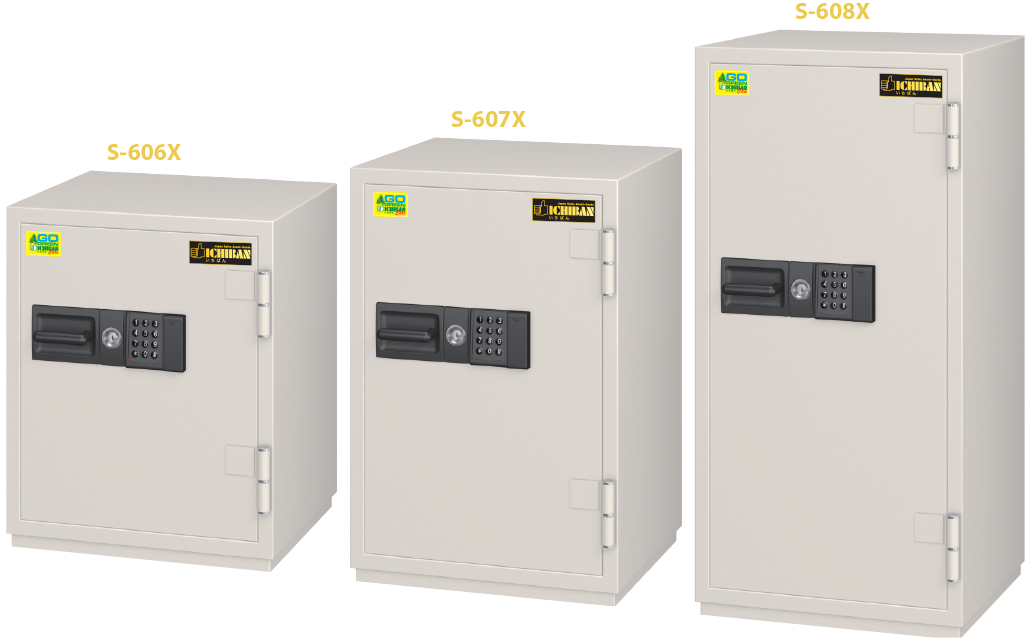 Equipped with original made Anti-drill cylinder lock. The keyhole and surface of the lock can withstand the force attack with electric drill and other equipment.
Feature
5 personal codes of 1-10 digits can be registered.
Work with 4 pcs x AA batteries.
Secure lockout function: The lock will be frozen for a while when attempting wrong personal code more than 5 times.
NEW POWDER COATED PAINT.
Scratch and rusty resistant.
Anti Drill cylinder lock.
Automatic re-locking device.
Dropping
test proofed
Recyclable
Fire
Resistant
Burglar
Proof
Anchored
to Ground
(optional)
Dimple Key
Locking
AA Battery
Specifications
TYPE
OUTSIDE DIMENSION mm
INSIDE DIMENSION mm
UNIT WEIGHT
NET AVERAGE
EFFECTIVE
INTERIOR
CAPACITY
STANDARD
ACCESSORIES
W
D
H
W
D
H
S-606X
610
630
795
450
355
560
195 kg
90 litres
 2 Hour JIS-TS 
1 shelf, 1drawer (362 x 280 x 120)
S-607X
610
630
955
450
355
720
241 kg
115 litres
 2 Hour JIS-TS 
1 shelf, 1drawer (362 x 280 x 120)
S-608X
610
630
1,295
450
355
1,060
314 kg
170 litres
2 Hour JIS-TS
2 shelf, 1drawer (362 x 280 x 120)