TOKYO
Multilock Fingerscan Firesafe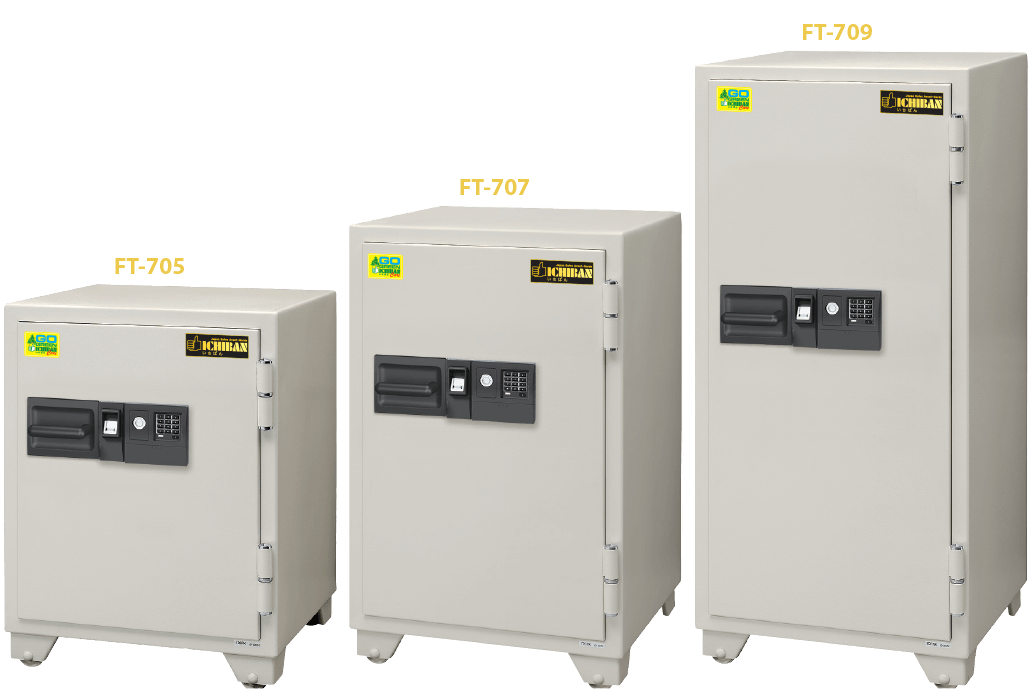 Biometric fingerprint lock, digital lock and i-button key can be available. You can select and use one favorite lock in these locks.
Feature
Up to 10 fingers can be registered. The fingerprint recognition can read a variety of information as sliding method.
Up to 10 different i-button keys can ve registered and the door can open with touching i-button reader.
Simple operation with sound and light. Fingerprint reader has LED and electronic keypad has backlights to operate in dark place. Sound and light will lead you the operation.
NEW POWDER COATED PAINT.
Scratch and rusty resistant.
Dropping
test proofed
Fire
Resistant
Recyclable
Burglar
Proof
Anchored
to Ground
(optional)
Dimple Key
Locking
Alarm
(optional)
AA Battery
Specifications
TYPE
OUTSIDE DIMENSION mm
INSIDE DIMENSION mm
UNIT WEIGHT
NET AVERAGE
EFFECTIVE
INTERIOR
CAPACITY
STANDARD
ACCESSORIES
W
D
H
W
D
H
FT-705
610
630
795
450
355
560
195 kg
90 litres
JIS PASSED
1shelf, 1drawer (362 x 280 x 120)
FT-707
610
630
955
450
355
720
241 kg
115 litres
JIS PASSED
1shelf, 1drawer (362 x 280 x 120)
FT-709
610
630
1,295
450
355
1,060
314 kg
170 litres
JIS PASSED
2 shelf, 1drawer (362 x 280 x 120)