SOLITAIRE
Fingerscan Firesafe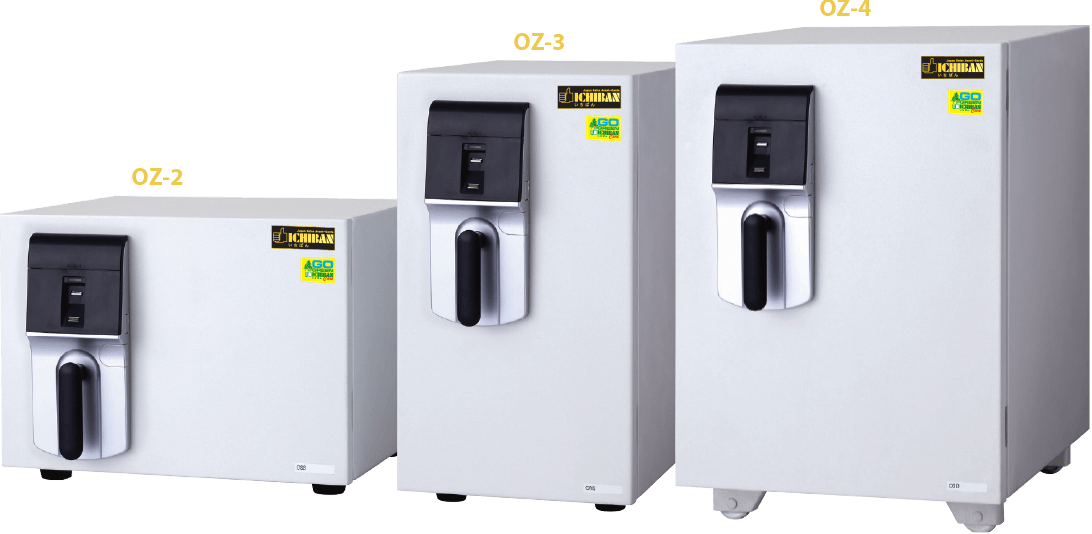 Feature
BURGLARY RESISTANT PERFORMANCE
Concealed hinge type door
There are no door frames or hinges with flat door. The structure is designed to lower the heat from the gap of door and prevents attacks directly to the locking bolt from forced-open the door.
Enhance burglary resistant performance with two locking bolts.
Two locking bolts are installed in SOLITAIRE series. Our similar grade of products have one locking bolt, so the specification enhances the burglary resistant performance against forced-open the door.
NEW POWDER COATED PAINT.
Alarm
(optional)
AA Battery
Dimple Key
Locking
Anchored
to Ground
(optional)
Burglar
Proof
Fire
Resistant
Recyclable
Dropping
test proofed
Specifications
TYPE
OUTSIDE DIMENSION mm
INSIDE DIMENSION mm
UNIT WEIGHT
NET AVERAGE
EFFECTIVE
INTERIOR
CAPACITY
STANDARD
ACCESSORIES
W
D
H
W
D
H
OZ-2
484
489
372
354
258
214
60 kg
19.5 litres
JIS PASSED
1tray 344 x 214 x 42
OZ-3
330
513
603
240
321
485
67 kg
37.0 litres
JIS PASSED
2 tray L:230x310x83, S:230x310x46
OZ-4
457
567
663
327
336
472
110 kg
51.5 litres
JIS PASSED
1shelf, 1drawer (297 x 260 x 77)