LONDON
Titanium Fingerscan Firesafe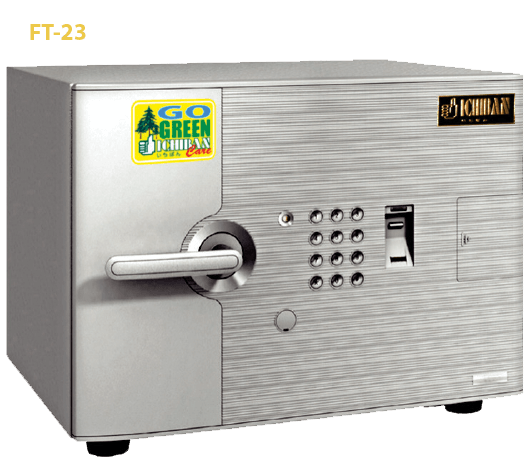 This series having epoch-making door face design are developed to give ultimate satisfaction for customers.
Feature
Newly designed face plate for the door is well matched to modern interios.
Equipped with door stopper to protect damage of other furniture.
Qualified with one hour JIS fire testing.
LED on the backside of biometric fingerprint reader and keyboard make operation easy in the dark place.
Outside battery placement for easy and safe maintenance.
NEW POWDER COATED PAINT.
Dropping
test proofed
Recyclable
Fire
Resistant
Burglar
Proof
Dimple Key
Locking
AA Battery
Alarm
(optional)
Specifications
TYPE
OUTSIDE DIMENSION mm
INSIDE DIMENSION mm
UNIT WEIGHT
NET AVERAGE
EFFECTIVE
INTERIOR
CAPACITY
STANDARD
ACCESSORIES
W
D
H
W
D
H
FT-23 
484
467
372
354
257
214
60 / 127.9
20 litres
1 Hour JIS-TS
1 tray