HIROSHIMA
Burglary & Fire Resistant Mighty Safe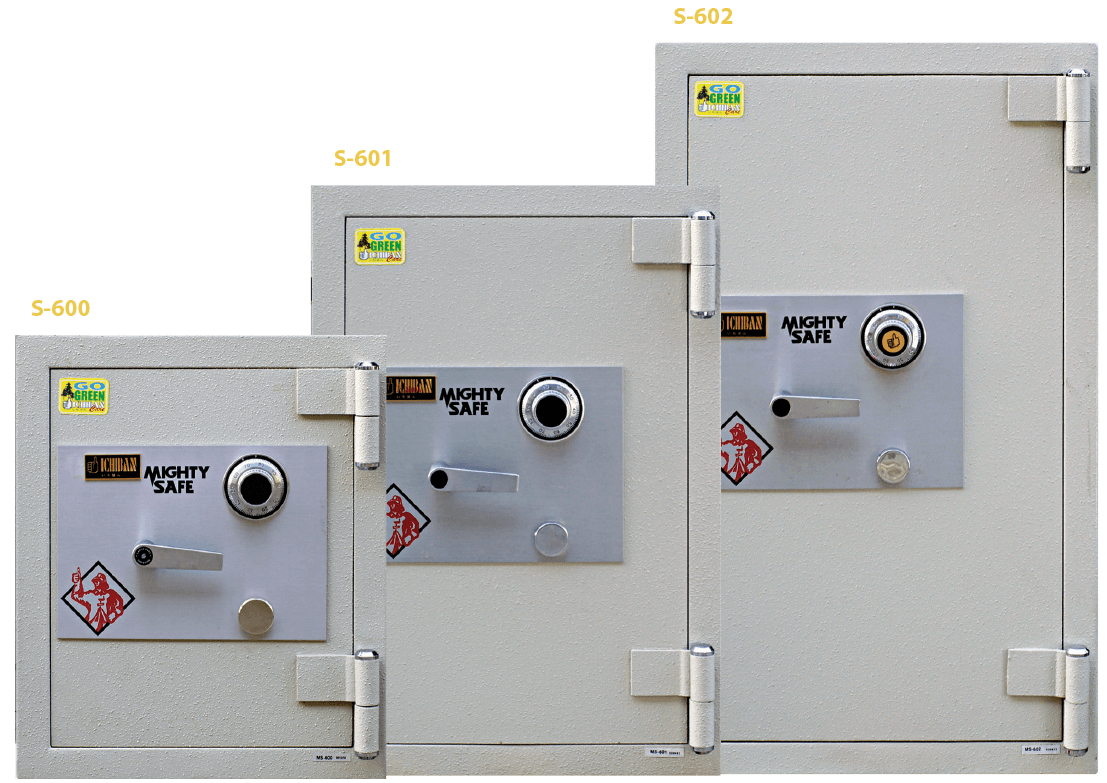 The Mighty Safes is one of the strongest safe. Uniquely designed, beautiful and stylish. The extra of wall thickness especially the door and the locking mechanism give the most efficient protection of your all valuable items.
Feature
Heavy solid steel door (10mm thickness).
Rigid reinforced steel construction.
Solid 30mm locking bolts.
Drill resistant steel plate to protect the lock.
Lock is changeable up to 1 million or more combination possibilities.
Double bit locks with long key (not easy to duplicate).
PU Texture paint (very durable).
Dropping
test proofed
Recyclable
Fire
Resistant
Burglar
Proof
Anchored
to Ground
(optional)
Specifications
TYPE
OUTSIDE DIMENSION mm
INSIDE DIMENSION mm
UNIT WEIGHT
NET AVERAGE
EFFECTIVE
INTERIOR
CAPACITY
STANDARD
ACCESSORIES
W
D
H
W
D
H
S-600
533
549
635
387
349
492
270/594
66,4 litres
 2 Hour JIS-TS 
1 adjustable shelf and 1 drawer with lock
S-601
584
626
838
438
426
696
420/924
129,8 litres
 2 Hour JIS-TS 
1 adjustable shelf and 1 drawer with lock
S-602
635
710
1,041
489
502
898
510/1.122
220,4 litres
 2 Hour JIS-TS 
1 adjustable shelf and 1 drawer with lock